Woodlands gives to schools
Wednesday, 24 September, 2008


By Chris Rooney
Ross Valley Reporter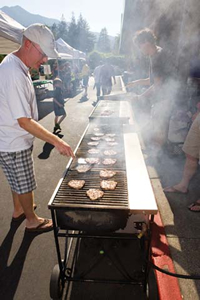 For more than 20 years, Woodlands Market has hosted an annual barbecue and family event to raise funds for the Kentfield Schools Foundation. Again this year, the festivities attracted hundreds of visitors and the market's owners capped off the day by pledging $10,000 to support local schools.

The event, held last weekend, drew more than 500 people, partaking of the barbecue, dunk tank, jump games and a visit from the Kentfield Fire Department, which wheeled in a hook-and-ladder truck for the kids to use as a jungle gym. Woodlands Market has contributed more than $2.2 million to community activities since 1986.
The market gladly foots the entire bill for the yearly party. "We are proud to have provided the site, food and all the proceeds for the past 22 years to the schools," said Woodlands founder Don Santa.

Sue Santa, executive director of the newly formed Woodlands Community Foundation said, "We believe that one of the most important aspects of being a community-based business is taking an active role in the education and well-being of the children in our community."

Last year, the market provided more than $100,000 to community nonprofit organizations, through direct giving and its eScrip program.

"Typically, grocery businesses spend up to 2 percent of their gross revenues on advertising," said Santa. "However, our approach since we first opened our doors has been to contribute that percentage to worthy organizations rather than to advertise."

Woodlands also announced that it would provide a Back to School Bonus program through its eScrip program. "During the month of September," said store General Manager Gary Grossetti, "we will double contributions, up to 10 percent of a receipt, when our customers present a registered eScrip credit or debit card."

Under this plan, customers register a credit or debit card and designate a non-profit organization. Woodlands then contributes a percentage of each qualified purchase from the market's revenues to that organization. Details are available at the store and on the Woodlands Market website (woodlandsmarket.com).

The Kentfield-based grocery store was founded by Don Santa in 1986.

At right, the barbecue is a crowd favorite at Woodlands Market's fundraiser, raising money for local schools.