Exploring the Traditions of Antique Oriental Rugs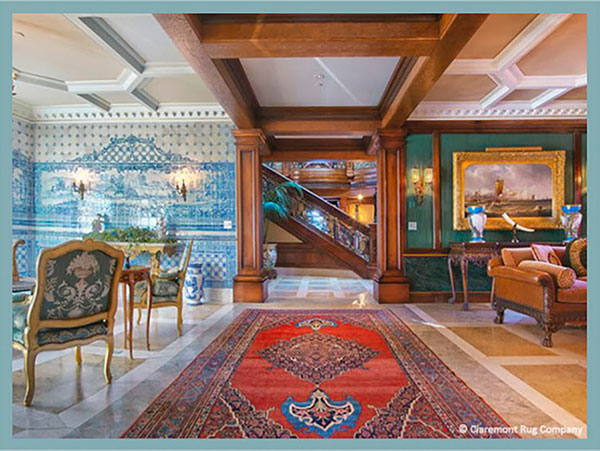 The 19th century Bijar Town rug serves as a dramatic entry statement in this impressive residence. By Jan David Winitz, President and founder of Claremont Rug Company.
Oakland, Ca - In the first installment of this series on the traditions that produced antique Oriental rugs, I focused on Tribal and Village rugs and the art of their weavers to capture intimate experiences of nature and the cosmos through ancient geometric symbols. This second article provides an overview of 19th century Town and City rugs and how they incorporated "The Art of Absolute Perfection" of the Safavid Dynasty carpets that predated them with improvisational elements found in Village and Tribal pieces.

What distinguishes Persian Town rugs? Remarkably, in a single carpet, they achieved a never before seen aesthetic, a highly versatile combination of formality and playfulness, curvilinear and rectilinear. They offer a distinctive ambiance created by their fanciful drawing, refined weave, and resonant color palette. Town rugs could be seen as the natural offspring of their dual inspirations: the perfect curvilinear drawing and dense weave of the earlier Safavid carpets married with the casual geometry and abstracted patterns of the millennia-old village tradition.

From the 15th through the mid-17th centuries, the Persian Safavid rulers' royal workshops literally revolutionized the Oriental carpet. During "The Golden Age of Persian Weaving," the royal ateliers initiated both design styles that dominated later rugs: the central medallion format and allover field patterns, both of which were rendered through perfectly symmetrical curvilinear drawing in what is known as "The Art of Absolute Symmetry." When the royal Safavid carpet workshops were shuttered, copies of the knot-by-knot cartoons of their masterpieces began filtering out into the hands of the Persian empire's village weavers, who began incorporating the classical arabesque, cloud band, dragon, and split palmette motifs into their own aesthetic.

By the middle of the 18th century, village weavers had fully assimilated these influences into their area rugs. To fill the vacuum left by the Safavids for room-size to palace-size carpets, the Town rug tradition began to emerge, particularly in Ferahan and Bijar where there were great numbers of talented weavers. Small, permanently organized workshops employed a new approach to carpet design, interpreting Safavid central medallions, borders, and allover field patterns in their own inimitable way, melding the fine weave, use of symmetry and floral patterns of the Court rugs with the angularity and more whimsical botanical drawing of village rugs. Unlike the home-crafted Tribal and Village rugs, Town carpet styles were the product of a sophisticated collaboration of carpet designers, weavers, dyer, and merchants. Not coincidentally the most expensive rug ever sold was a 17th century Isfahan Safavid which a bid of $33.7 million in 2013 at an auction in London.

On the Ferahan plain, an abundance of workshops created everything from mats to extremely large carpets. Here, seasoned weaving artisans had the liberty to employ floral drawing softened by uncanny realism with individually rendered flowers, tendrils and vines tilting at charming angles, with each tiny floret so delicate that they appear to be drawn by pen and ink. Such inspired flourishes would not be possible by the Safavid artisans whose task was to follow knot-by-knot cartoons to exactitude.

Elaborating on the disconnected, undersized medallions of Court carpets, Ferahan's large multi-layered medallions contributed a sense of grandeur, while their innovative field patterning reflected the centerpieces' themes for an integrated artistic statement. It is Ferahan's carpet design, not the Safavid precursor, that inspired most medallion styles in the 19th century.

Bijar carpets offer a unique combination of gracious nobility and joie de vivre. Created at the highest inhabited elevation in Persia at 6400 feet by Kurdish artisans, with their extremely long history of rug weaving, these carpets offer exquisite knotting and a singularly dignified, yet fanciful design vocabulary. Known as "The Iron Rugs of Persia" for their famously durable construction, Bijar designs include contoured geometric medallions, often on unadorned grounds displaying breathtaking abrash, exquisite renditions the allover "Garden of Paradise" design and highly faceted Herati allover ornamentation. At times, all of these designs were fluidly incorporated into a single carpet. The resonant Bijar color palette often includes rich madder reds and a prominent yellow hue to lift the spirits.

The last entry chronologically into the antique Town tradition is Persian Sultanabad carpets. Possibly initiated by enterprising Ferahan merchants looking to expand their line in the newly garrisoned town of Sultanabad, by the mid-19th century a Sultanabad style blending casual and cosmopolitan elements began to emerge. These rugs typically offered excellent, silky wool with overall, large-scale blossom patterns and a rainbow of exotic naturally dyed colors.

Later in the 19th century, European merchants looking to invest in the growing Oriental carpet market, greatly expanded the number of Sultanabad workshops, adding the prized sub-category, Ziegler Sultanabads, which were the most finely woven and densely patterned of this style. In the surrounding region, small workshops produced a version of the Sultanabad style with a looser village knot count called Mahal that present an even more relaxed, informal ambiance.

After the Safavids, other Town weaving centers such as Senneh in Kurdistan and Joshegan near Isfahan were prominent at the beginning of the post-Safavid era. Yet, without the broad financial backing necessary to sustain a market for their intricately woven rugs, their production was limited. The three 19th-century Town styles covered in this article went on to gain global recognition and contributed a ground-breaking artistic direction, seamlessly combining courtly refinement and village spontaneity.

CITY RUGS
Persian City rugs are the most elegant, exquisitely crafted of all Oriental carpets, offering countless imaginings of idealistic gardens and formal, generously intricate medallion presentations. This distinctly symmetrical floral genre was inherited directly from Persia's Safavid Dynasty (the 1500s to early 1700s) when, for the first time, Oriental rugs woven in Royal workshops presented highly articulated, curvilinear drawing. Sometimes referred to as Court rugs, this tradition values the depiction of beauty as the outer indication of the potential for inner perfection, evoking a sense of awe in the viewer. It offers an entirely unique aesthetic to the Tribal, Village, and Town traditions.

As far back as the Pazyryk Carpet (the earliest existing intact rug, 5th century BC), virtually all rugs had a tilework design theme. Then, the Safavid workshops literally created a "design revolution" that diametrically changed the way a carpet's field was perceived by the artisan weavers—becoming a canvas that allowed for Trees of Life, pictorial animals and birds, archways and waterways, kaleidoscopic medallions with supporting corner pieces, and vertically oriented Gardens of Paradise.

In the City rug styles of the 1800s and early 1900s, this artistic direction ignited an extraordinary outpouring of inspiration. The carpets from Kashan, Isfahan, Tabriz, and Kirman each created a different window through which to wonder at the beauty of the natural and heavenly visions they captured. Along with another City rug style, Tehran, and Agra and Amritsar in India, this tradition created extremely tightly knotted, often densely ornamented carpets that, in some cases, took many years to create.

In an area where there is precious little historical documentation, one must study the carpets themselves to learn about their evolution. In the early part of the 19th century, City carpet weaving was a small affair, as Persia recovered from various tumults, Kirman seemingly the most stable and productive. The many rare pieces that I have seen woven from the mid-1800s and before generally reflect more delicate sensibilities than the later ones. Their abrash striations often are gentler, their color palettes brilliantly selective rather than broadly exuberant as became the norm 50 years later.

Isfahan, Kirman, and Tabriz had deeper roots in the Safavid tradition and their early 19th century examples are more dedicated to symmetry, whereas Kashan, a minor player during the Safavid era, created extraordinarily finely knotted rugs in the 1800s that in many cases offer design details seemingly left to individual weavers to create.

As the 19th century unfolded, the confidence to explore new vistas of carpet design energized the City rug tradition. The hierarchy of proportion between the motifs, border treatments, and designing all parts of a rug to evocatively interact became dynamic arenas of experimentation. Field ornamentation grew denser and some color palettes left behind the mid-tones and pastels for richer natural shades. In every locale, all these artistic choices were made workshop-by-workshop, some holding to what was already beloved, others venturing forth to develop new medallions, new dyes, and unique color combinations as the tradition continued to evolve.

Rug-making became a collaborative effort. In City workshops, rugs were creations of a community of highly skilled artisans. Some specialized in creating rug designs in elaborate knot-by-knot cartoons, others in dyeing and spinning yarn, others in weaving, and finally, those whose expertise was the cutting the rug's pile at the culmination of the project as to create a glass-like surface. Near the end of the 19th century, when Oriental carpets became one of the booming international trade items between Persia, Europe, and America principally, this expansion of creativity began to wane as commercial infrastructure dictated market preferences. It was then that this creative expansion ceased.

Each style of City rug has definitive characteristics, contributing unique symphonies of color and design. Mohtasham Kashans combine extraordinarily fine weaves of 300 to over 400 kpsi with magically expressive drawing. The workshop of Hadji Jallili in Tabriz often employed novel, primarily earth-tone palettes to accomplish rich arrays of designs, including astonishing room-size oeuvres with "Garden of Paradise" themes set under a towering prayer niche.

The near-microscopic articulation of pattern in Isfahan's visionary carpets vivifies this style's exotic worlds, often filled with rare birds and their extraordinary plumage and wondrously dense, perfectly tended, jewel-toned gardens. In contrast, Laver Kirmans' gardens are blankets of less manicured, charming, diminutive species portrayed in springtime coloration. The most sought-after antique Tehran rugs are area-size "Garden of Paradise" pieces in rainbow colors, replete with endearing renditions of deer, rabbits, all manner of birds, even an occasional elephant.

After over four decades in the field of art-level antique Oriental rugs, I feel fortunate to still be able to uncover consummately crafted, extraordinarily innovative Town and City rugs from the 19th century that remain to present to my Claremont Rug Company clients.